Speaker terms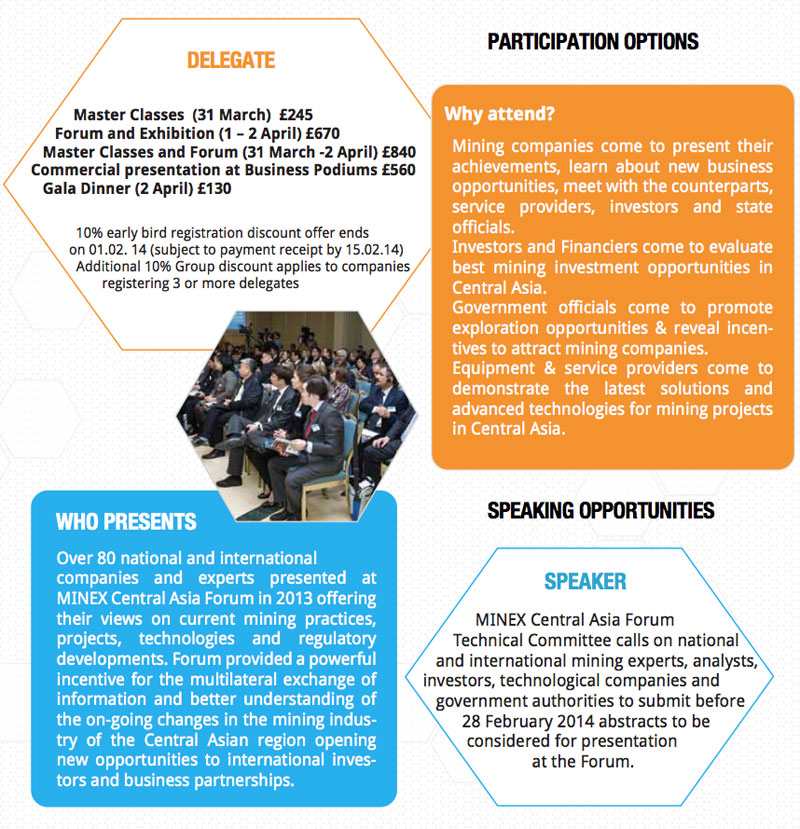 Over 80 national and international companies and experts presented at MINEX Central Asia Forum in 2013 offering their views on current mining practices, projects, technologies and regulatory developments. Forum provided a powerful incentive for the multilateral exchange of information and better understanding of the on-going changes in the mining industry of the Central Asian region opening new opportunities to international investors and business partnerships.
MINEX Central Asia Forum Technical committee calls on national and international mining experts, analysts, investors, technological companies and government authorities to submit before 28 February 2014 abstracts to be considered for presentation at the Forum which will be organised in Astana from 31 March to 2 April 2014.
The Forum will address on-going problems and look into prospects of Central Asia's mining industry's development in current macroeconomic and policy climate. The Forum's Technical committee will be happy to consider presentation papers on current state and further development of mining and exploration, technological modernisation, business optimisation and increasing general competitiveness of Central Asia's mining industry. The presentations must cover topics that are of general interest to its key audiences. Please refer to the list of themes proposed to be addressed at the Forum. Case studies based on practical experiences in the region or globally are welcome but should be free from direct advertising and self-promotional materials. Special "Business Podium" area will be reserved alongside the Forum's mainstream program for companies and exhibitors who would like to present their products or services. For rates please check the "Business Podium" presentation option in the delegate registration form. For Business Podium presentation terms available to exhibitors please check the Exhibitor booking form.
HOW TO SUBMIT SPEAKER PRESENTATION PROPOSAL?
________________________________________
When proposing speaker presentation please note that we are unable to cover speaker's travel expenses or sponsor research. Also please note that unless specifically agreed with the Organising Committee all speakers are expected to pay the Forum admission fee. Speakers presenting on behalf of the corporate sponsor or exhibitor will be provided with a complimentary admission in accordance with the sponsorship and exhibitor terms. Should you wish to attend the forum, please :
If you agree with these terms, please complete before 28 February the following forms:
and
Delegate or Exhibitor or Sponsorshipforms
Please note that abstract should be no longer than 1000 words and include information about the author(s), contact details (tel, email), time required to deliver presentation and special technical requirements.
What is next?
If your paper presentation has been accepted by the MINEX Technical Committee, you will be expected to submit the following documentation prior to the forum (please refer to deadlines listed in the speaker form):
• Bio and Photo (to be submited with speaker proposal form)
• Presentation slides in PDF format (to be included in the MINEX CD materials) – Please submit before 14 March: admin@minexforum.com
• Handout notes in PDF format (to be included in the MINEX CD materials) – Please submit before 14 March: admin@minexforum.com
• Presentation slides in PowerPoint format for on-screen presentation during the forum – Please submit before 24 March: arthur.p@minexforum.com
NB: Speaker's slides to be presented on screen should be prepared in PowerPoint or PDF formats. Please note Flash or other media files are not accepted for on-screen presentation. The slides should be sent to: admin@minexforum.com
If the file size exceeds 10 MB, please upload it on free ftp server: http://wikisend.com or https://www.dropbox.com and email the link to the file to admin@minexforum.com
For more information please contact:
Mr. Arthur Poliakov, Managing Director, Advantix Ltd (MINEX Central Asia 2014 Forum General Manager)
Tel: + 44 207 520 9341 Fax: + 44 207 520 9342 E-mail: admin@minexforum.com
---
Proposed themes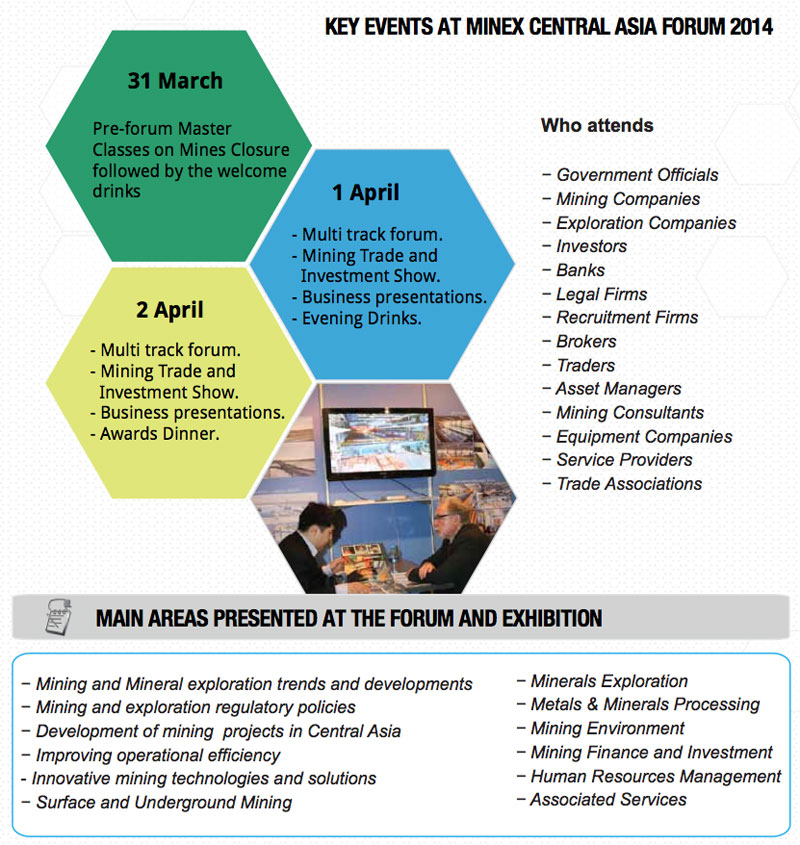 PROPOSED THEMES TO BE ADDRESSED AT MINEX CENTRAL ASIA 2014
Mining and Mineral exploration trends and developments
• Global downturn cycle in the mining industry. What are the mid- and long term prospects?
• Impact of Foreign Direct Investment in the Socio-Economic Development of Central Asia's states.
• Market outlook for mining commodities – where are the growth opportunities? Examining future metal needs and how industry is developing strategies to secure supplies.
• The way forward for the Central Asia's mining industry – growth strategies for optimised shareholder return.
• Investor's perspective on the state of the junior sector in Central Asia.
• Investor's perspective on business prospects and constraints in the mining sector in Central Asia
• Competition for Mineral Resources: supply/demand, regulation, taxation and investment.
• Current role of state ownership of mineral resources in Central Asia. Forthcoming changes.
• Government led programs and changes to boost Mineral Prospecting & Exploration in Central Asia.
• Exporting global mining and exploration experience to Central Asia. Can this be done and at what level?
• Social licence to operate and other important developments for creating sustainable mining in the region.
• Performance and benefits of social responsibility in the mining sector.
• Review of tax and other regulatory incentives for extractive industries
Mining and exploration regulatory policies in Kazakhstan, Kyrgyzstan, Tajikistan and Uzbekistan
• Mining regulatory policies update and what it means for further mining development.
• To what extent have changes to the mining laws benefited domestic and foreign mining companies?
• Overview of exploration and mining licences, permits and the application process.
• What are common barriers faced by mining companies and what could companies do to overcome them?
• Assessing successful practices for negotiating the regulatory framework and the timely granting of licences and permits.
• Examining successful practices for securing mining tenure.
• Examining successful methods for settling disputes relating to mining and exploration in Central Asia.
• Assessing the role and proposed structures of state-private partnerships in the mining sector.
Development of mining and mineral exploration projects in Central Asia – commodity focus
• Gold, Platinum and Silver
• Iron Ore
• Cooper and non-ferrous metals
• Uranium
• Coal
• Rare earths and metals
• Industrial minerals

Improving operational efficiency – innovative mining technologies and solutions
• Mining efficiency: automated technological and management solutions
• Energy Efficiency in Kazakhstan's Mining & Metals Sector – International perspective.
• Mitigating transport and logistics challenges – Innovative transport technologies for mining industry
• Modernising mining and ore-processing enterprises: practical experiences
• Development of Low Grade Gold mine projects
• New technical solutions and tools for mining and geological modelling.
• Health and safety in mining: hazard and risk factor prevention practical solutions
• Mines Design and Planning
• IT in Mine Engineering and Management
• Drilling, Blasting and Excavation Operations
• Resources and reserves reporting and economic modelling
• Exploring in hazard and remote areas. Practical experiences.
• Mining Equipment Selection and Automation
• The value of geological data in forming a vibrant exploration and mining sector.
• Efficient Reclamation, Mine Closure and Mining Waste Disposal Methods.
• Domestic and international technologies and approaches of geological survey and mineral exploration.
• Ecological Aspects of Mining Engineering and Mineral Processing.
• Developing new projects in Central Asia – successful examples.
• Geological research and data evaluation practices
• Renewal of the mineral resources – exploration programs.
• How could mining companies in Central Asia best adopt the most advanced exploration techniques and equipment to rapidly advance their projects?
• Implementation and monitoring of crisis management strategies.
• Mining project cost management from project planning to construction.
• Risk factoring and benchmarking. Corporate, environment, investment considerations.
• Temporary suspension of low-profit mining projects – decision and implementation processes.
• Adapting and implementing planning systems at mining and metallurgical enterprises.
• Best HR practices and challenges of developing effective training programmes to maximise the returns from mining projects.
• Evaluating the use of technology in Central Asian mining operations from a global perspective.
• Operational innovation: implementing the latest technologies to achieving optimal productivity of operations.
• Valuation of mineral resources – buying and selling side perspectives.
• Waste dumps turnaround management.
• Latest International Developments in Underground Equipment Technology.
• Information (IT) and Operational Technologies (OT) in the Mining Industry

Mining Finance
• Future development trends in the mining capital markets.
• Emerging sources of capital: Who and how?
• Financing for mine developers – Structures, sources and availability
• Private equity finance solutions and latest PE finance stories
• What types of projects are attractive to PE funds
• Alternative Funding Models for Exploration Projects
• Financing mineral exploration projects in Central Asia – recent case studies.
• Mining finance solutions and strategies for start-up mining companies.
• Preparing company for an international listing – practical considerations.
• Prospects for raising capital on the domestic and International financial markets.
• Mining project and structured financing solutions.
• Do local and international lenders understand the needs of mining industry for modernisation, acquisitions, exploration and project development? Are they able to meet these needs?
• What role do the state banks play to support the development of mining industry?
Mining Investment
• Mining in Central Asia – assessing risks and rewards balance.
• Key mining investment trends and M&A developments in Central Asia.
• Analysing opportunities for cross-border investment in Central Asia.
• Foreign and domestic mining investor universe in Central Asia and emerging new players.
• Foreign acquisitions in Central Asia – the role and practical experiences.
• Emerging investment opportunities and current investor sentiment in Central Asia.
• Analysing current government investment incentives offered in Kazakhstan and throughout Central Asia
• What must mining companies do to regain investor appetite for the sector?
• What investment strategies should companies implement to take advantage of a cyclical market
• Divestments and acquisition strategies. Allocating capital for growth and acquisition of core high-margin assets
• Preparing investment projects to ensure their appeal to potential investors.
• Preparing investment presentation. Which reporting standard to use?
• Mining project selection criteria used by mining companies and investors.
• The role of China's demand for metals supply in funding mineral resources development in Central Asia.
• The role of strategic partnerships to reduce investment risks.