EXHIBITOR OPTIONS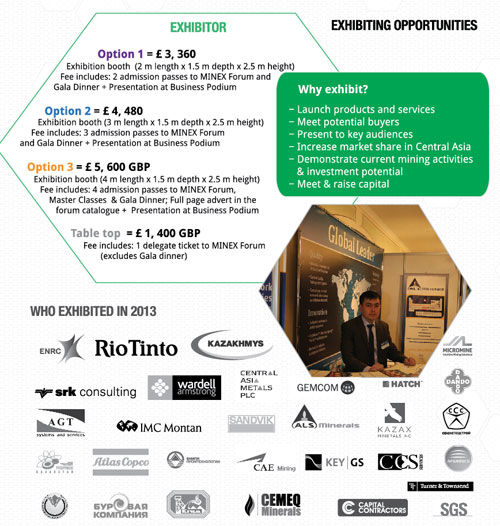 EXHIBITOR OPTIONS
(prices quoted in British Pound Sterling (GBP) at 0% UK VAT)
» Expo map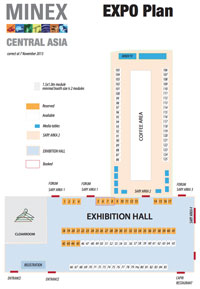 ---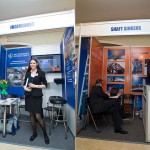 Exhibition booth – Option 1
(2 m length x 1.5 m depth x 2.5 m height) = £ 3, 360 GBP
Fee includes: 2 admission passes to Minex Forum and Gala Dinner + Presentation at Business Podium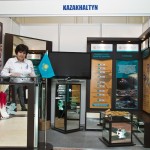 Exhibition booth – Option 2
(3 m length x 1.5 m depth x 2.5 m height) = £ 4, 480 GBP
Fee includes: 3 admission passes to Minex Forum and Gala Dinner + Presentation at Business Podium
---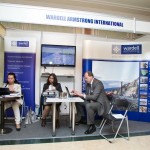 Exhibition booth – Option 3
(4 m length x 1.5 m depth x 2.5 m height) = £ 5, 600 GBP
Fee includes: 4 admission passes to Minex Forum, Master Classes & Gala Dinner; Full page advert in the forum catalogue + Presentation at Business Podium
---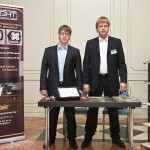 Table top
Exhibitor fee = £ 1, 400 GBP
Fee includes: 1 delegate ticket to MINEX Forum (excludes Gala dinner)
---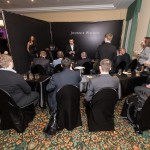 Business Podium Presentation
Exhibitors who selected options 1, 2 and 3 – No charge
Table top exhibitors – £ 560 GBP
---
BOOTH EXHIBITOR TERMS (Foyer or Sary Arka 2 Exhibition Hall)
1. Exhibition booth hire from 7 am on 1 April until 6 pm on 2 April 2014 at the Radisson Astana Hotel (Forum venue), monochrome company name print on the front panel, hire of 0.7 m table, 2 chairs, 2 spot lights & 220 V electricity;
2. Short (150 words) exhibitor profile on MINEX Central Asia 2014 website and in the Forum's catalogue;
3. Delegate admission to MINEX Forum on 1 and 2 April and admission to MINEX Gala Dinner on 2 April (pls. see terms above);
4. Additional delegate passes to Master Classes or Forum can be purchased at 30% off standard rate;
5. Exhibitors who have booked exhibitor option 3 are entitled to a complimentary full page advert in the Forum's catalogue
---
TABLE TOP EXHIBITOR TERMS (Sary Arka 2 Exhibition Hall)
1). Hire of table, chair and small area for mobile exhibition stand (maximum width up to 1.3 m and height up to 2.5 m).
2). Listing of exhibitor's profile (up to 150 words) on MINEX Central Asia 2014 website and in the Forum catalogue.
3) One delegate ticket to MINEX Forum on 1-2 April (excludes Gala dinner).
4). 15% off standard delegate rates if purchasing additional delegate tickets to the forum and/or master classes.
---
BUSINESS PODIUM PRESENTATION TERMS
Exhibitors who have booked presentation slot at a Business Podium session are entitled to 20 minute meeting room hire, screen, projector, sound system, Russian-English simultaneous translation and enclosure of the presentation in the forum's materials. Exhibitors presenting at the forum should submit speaker form with the presenter's bio, photo and presentation slides.
---
BOOKING AND CANCELLATION TERMS
Booking confirmation and invoice: You will receive acknowledgement of your booking and invoice within 48 hours of sending your registration. Please call us on + 44 (0) 207 520 9341 in case you do not receive confirmation within stated period.
Payment: Payments must be received in full before 21 March 2014. UK VAT is not applied to payments made to the UK account. Payments made to the account in Kazakhstan will be subject to Kazakh taxes, Bank commission charges and Exchange rates. All credit card payments are subject to 3% charge. AMEX card payments are not accepted.
Cancelations: if received in writing before 21 March 2014 will be subject to administration charge of 10% of total amount. Full fees are payable in the event of cancelation after 21 March 2014. Delegate substitutions are welcome at any time (providing the delegate has Kazakh entry visa).