About the Forum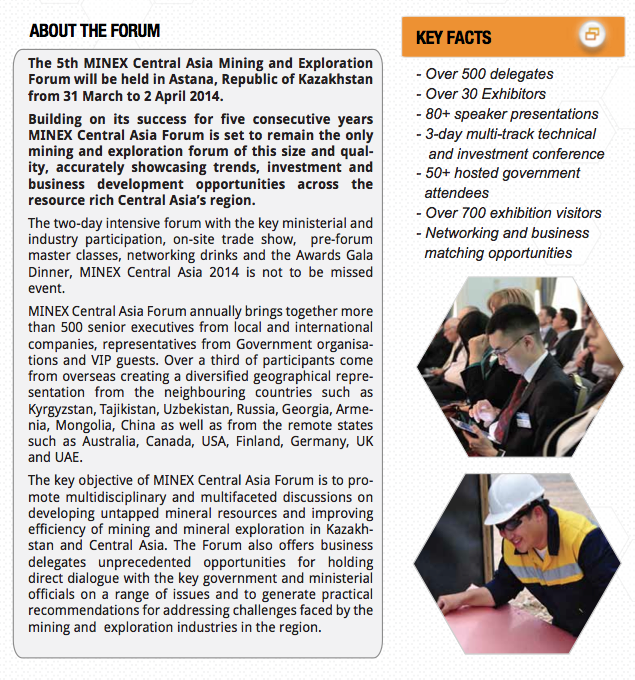 Building on its success for five consecutive years MINEX Central Asia Forum is set to remain the only Mining and Exploration forum of this size and quality, accurately showcasing trends, investment and business development opportunities across the resource rich Central Asia's region.
The two-day intensive forum with the key ministerial and industry participation, on-site trade show, pre-forum master classes, networking drinks and the Awards Gala Dinner, MINEX Central Asia 2014 is not to be missed event.
The Forum and Trade Show will be held at Astana Radisson Hotel (Republic of Kazakhstan) on 1 – 2 April 2014. The pre-forum master classes will be organised on 31 March at the nearby Park Inn Hotel.
MINEX Central Asia Forum annually brings together more than 500 senior executives from local and international companies, representatives from Government organisations and VIP guests. Over a third of participants come from overseas creating a diversified geographical representation from the neighbouring countries such as Kyrgyzstan, Tajikistan, Uzbekistan, Russia, Georgia, Armenia, Mongolia, China as well as from the remote states such as Australia, Canada, USA, Finland, Germany, UK and UAE.
The key objective of the MINEX Central Asia Forum is to promote multidisciplinary and multifaceted discussions on developing untapped mineral resources and improving efficiency of mining and mineral exploration in Kazakhstan and Central Asia. The Forum also offers business delegates unprecedented opportunities for holding direct dialogue with the key government and ministerial officials on a range of issues and to generate practical recommendations for addressing challenges faced by the mining industry in the region.
Key facts
Over 500 delegates
Over 30 Exhibitors
80+ speaker presentations
3-day multi-track technical and investment conference
50+ hosted government attendees
Over 700 exhibition visitors
Networking and business matching opportunities
Key events at MINEX Central Asia Forum 2014
31 March – Pre-forum Master Classes on Mining Closure followed by the welcome drinks
1 April – Multi track forum. Mining Trade and Investment Show. Business presentations. Evening Drinks.
2 April – Multi track forum. Mining Trade and Investment Show. Business presentations. Awards Dinner.
Main areas presented at the Forum and Exhibition

Mining and Mineral exploration trends and developments
Mining and exploration regulatory policies
Development of mining and mineral exploration projects in Central Asia
Improving operational efficiency – innovative mining technologies and solutions
Surface Mining
Underground Mining
Minerals Exploration
Metals & Minerals Processing
Mining Environment
Mining Finance and Investment
Human resources management
Associated Services

Who attends

Government officials
Mining Companies
Exploration Companies
Investors
Banks
Legal Firms
Brokers
Traders
Asset managers
Mining Consultants
Equipment companies
Service Providers
Trade associations