Participation Terms
PARTICIPATION OPTIONS AND FEES


STANDARD DELEGATE FEES (10% GROUP DISCOUNT APPLIES WHEN REGISTERING 3 OR MORE DELEGATES)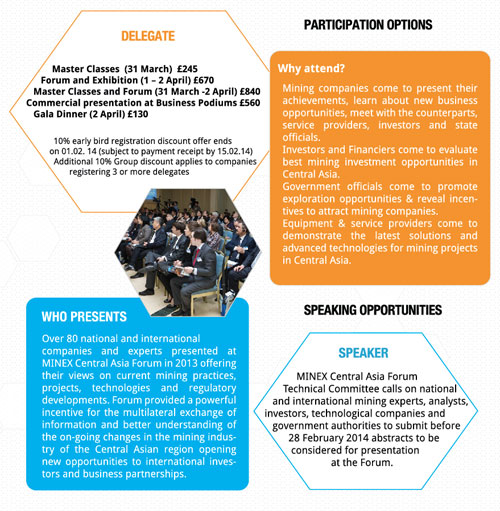 Master Classes
31 March or 2 April
£245
Forum
1-2 April
£670
Master Classes and Forum
31 March – 2 April
£840
Gala Dinner
2 April
£130
Commercial presentation
£560
PARTICIPATION TERMS


Delegate pre-registration ends: Friday 28 March 2014
Payment: Delegate fees can be paid by VISA, Solo, JCB or Master Card, Bank Transfer or by Cheque from UK Bank. Barclays Bank Exchange rates will apply to payments in other currencies. AMEX payments are not accepted.

Admission: Organisers reserve the right to refuse entry to delegates who have failed to pay the delegate fee prior to the forum.

For group registrations: 10% group discount offered when registering 3 or more delegates attending master classes and forum.

Gala Dinner: No discounts available. Due to seating capacity restrictions registered delegates have priority when purchasing tickets for Gala Dinner

Student discounts: up to 50% discretionary discount may be offered to full time students and academicians.

Master class delegate fee: includes admission to all master class sessions; master classes hand-outs; luncheon; coffees; use of simultaneous translation (Russian and English).

Forum delegate fee: admission to forum sessions; admission to welcome drinks reception; conference bag with MINEX Central Asia 2014 materials; luncheons, coffees; use of simultaneous translation (Russian and English).

Gala Dinner fee: Includes unreserved seat at a dinner table; Gala show during the dinner.
TERMS OF BOOKING

Booking confirmation: You will receive acknowledgement of your booking and invoice within 48 hours of sending your registration form. Please call us on + 44 (0) 207 520 9341 or email to admin@minexforum.com in case you do not receive confirmation within stated period.
Cancelations: Cancelations received in writing before 21 March 2014 will be refunded subject to administration charge of 10% of total registration fee. Full conference fees are payable in the event of cancelation on 21 March 2014 or thereafter. Delegate substitutions are welcome at any time free of charge (providing the delegate has Kazakh entry visa).
Taxes and charges: UK VAT is not applied to payments made to the UK account. Payments made to the account in Kazakhstan will be subject to Kazakh VAT, Bank commission charges and Exchange rates. All credit card payments are subject to 3% charge. AMEX payments are not accepted.