Development Director , RJC
---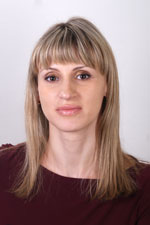 1995-2001 Department of Mineralogy, Petrology and Crystallography, Geological Faculty, St.-Petersburg State Mining Institute, master of geology, specialization «Applied geochemistry, mineralogy and petrology».
2001-2003 the geologist, JSC "Karelskiy Okatish", Kostomuksha, Karelia, NW Russia.
2007 Candidate of Sciences (Ph.D.), St-Petersburg State University.
2007-2008 the projects coordinator, "Micromine Russia".
2008-2011 the executive director,"RJC CONSULTING".
Since 2011 – Development Director (CDO), RJC Group.
Full member of the Russian Mineralogical Society of Russian Academy of Sciences. Author of more than 20 scientific publications, including co-author of the publication in Journal of Human Evolution, participant of scientific expeditions.
---
Session 8 - Implementing innovation in mineral exploration

Нow to organise a modern exploration project?
1. Conditions have changed - increased drilling speed , QA / QC, increased efficiency processing of information , top-management and investor want transparency of the project , the project has several contractors - all want process automation and convenient infrastructure.
2 . Relevance of the transition to IT- platform does not depend on the scale of the project. Examples: junior company and management system of geological information throughout the enterprise or government data bank .
3 . Benefits and features: assessment of economic efficiency.
4 . Risks and factors mitigating positive effect : errors in the organization of work , violations in stages of works, etc.
---