Vice-Minister, Ministry of Industry and New Technologies of Kazakhstan
---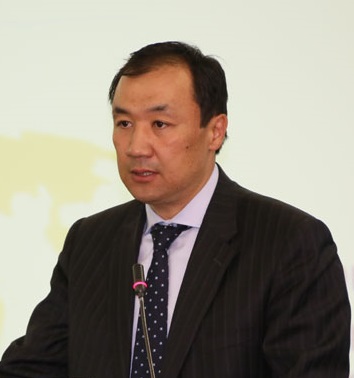 Mr Sauranbayev was born on 20 May 1967. In 1991 he graduated from political economy department of "Al-Farabi Kazakh State University" with a degree "Economist, Tutor in Political Economy". In 2001/2002 he trained in Milan (Italy) at the ENI-Agip Training Center for oil industry where he received his degree as Master of Petroleum Administration.
His professional career Mr Sauranbayev began in 1991 as director of the LLP ENBEK. In 1997 he became executive director of the Congress of Entrepreneurs of Kazakhstan. Subsequently he held senior positions in "Kazakhstan Temir Joly" (1998-2000 years. – Director "Passenger transportation"), JSC Atyrau Refinery (2000 to 2001. – 1st Vice President), Inc. "Kazakhoil" (2001 to 2002. –General Manager, Head of Project Management for Reconstruction of JSC "Atyrau Refinery "), JSC KazMunaiGaz (2003 and 2004. – Director of engineering and maintenance projects), LLP TenizService" (2004-2007 years. – CEO), KazMunayGas "(2007-2010 years. – Managing Director), JSC "Samruk Kazyna" (2010 to 2011. –Advisor to the Deputy Chairman of the Board). From January to May 2011 – Managing director of JSC "Samruk-Kazyna" JSC, Astana. From May 2011 – appointed Deputy Minister of Industry and New Technologies Kazakhstan.
Main responsibilities at the Ministry include:
- Development of measures to increase share of local content in procurement of goods and services to organizations and government agencies, conducted in the Republic of Kazakhstan;
- Coordination of State geological survey, the reproduction of mineral resources, rational and complex use of mineral resources;
- Governance of the subsoil use of solid minerals, ground water and mud.
In 2007 Mr Sauranbayev was awarded the Order of the Kurmet.
---
Session 1 - Mining policies, practices and emerging investment opportunities in Central Asia

Policy of the Republic of Kazakhstan in the field of geology and subsoil use.
---
A roundtable «Discussion of conceptual approaches for the Code of the Republic of Kazakhstan «On Subsoil»

---