Senior Environmental Consultant, IMC Montan
---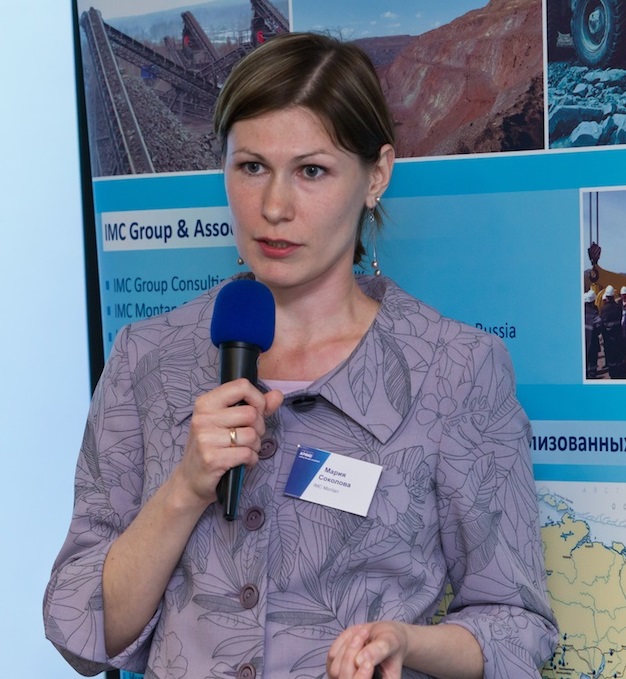 Maria Sokolova is an environmental specialist with 11-year experience in the environment protection field. She has graduated from Moscow Ordzhonikidze Geological Exploration Academy. She is a certified engineer with the area of expertise in Geoecology. Following her graduation, she worked as a Principal Specialist of Emergency Monitoring Department in the Monitoring and Forecasting Centre within the Russian Federation Ministry of Emergency Response. She has gained experience in environmental activities over all the regions of Russia, including assessments of environmental safety of industrial enterprises. She has state awards upon the result of her work. At present, she works in IMC Montan as a Senior Environmental Consultant. She participates in various projects and carries out environmental audits for environmental impact assessments of production activities and compliance of businesses with Russian environmental laws and international standards. During her work with IMC Montan, she has participated in more than 50 projects.
---
Session 4 - Responsible mining and mine closure planning

Mine closure and site reclamation plans at various development stages of a project.
Talk about the mine closure and site reclamation plans, including: their specific features mainly related to the international point of view; project implementation stages; relevant periods for development of these plans and their level of detail; data to be taken into consideration for these plans; the content of mine closure and site reclamation plans; and reasons for inclusion of costs assessment of mine closure and site reclamation into these plans.
---