Director , IMC Montan
---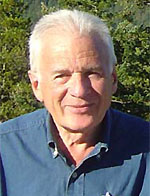 John Bacharach is a Director of IMC Montan and a professional mining engineer with more than 30 years experience in the mining sector both as a senior executive with direct responsibility for mine operations and as an international consultant. He has worked in a wide range of minerals including ferrous, non-ferrous, polymetallic, precious metals and coal and for the past 15 years has worked principally in the CIS where he is IMC Montan's resident Director in Moscow.
---
Session 5 - Growth strategies in changing and challenging markets

Developing the Kyrgyz Mining Sector – Where Next?
---