Director , Rio Tinto Mining and Exploration Inc.
---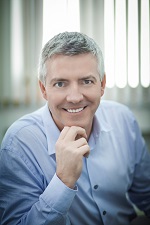 Gary Hodgkinson is the Director and General Manager of Rio Tinto Exploration in the Central Asia District based in Almaty, Kazakhstan. Formerly Gary held the role of Exploration Manager in Canada. Prior to joining Rio Tinto in August 2008, Gary held a number of positions within De Beers working in Canada, South Africa and the Democratic Republic of the Congo. Gary holds a BSc in Physics and Geology from Rhodes University in South Africa and a Masters in Geophysics from The University of the Witwatersrand, South Africa. Gary operated a geophysical contracting company for ten years after his graduation in 1988 before moving to a major mining company.
---
Session 2 - Renewal of the mineral resources in Central Asia. Local challenges and global practices

Firm Opportunity to Execution
The Rio Tinto team in Kazakhstan has been laying a firm foundation over the last few years and developing opportunities for future exploration activities. Now that licenses have been granted the team needs to execute the programmes. The talk will outline the mechanism for execution and the challenges still facing exploration companies in turning opportunities into success.
---