General Manager, Johannes Hübner GmbH Giessen
---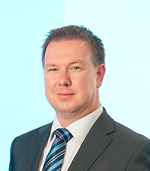 Graduated in 1994 for the university of applied science "Technische Hochschule Mittelhessen" Giessen, Germany with a degree in Mechanical Engineering "Dipl-Ing (FH)". Postgraduate course in 2001 in Industrial Engineering and Management.
Professional work history started in 1995 as a Sales Engineer.
In 2001 joined Johannes Hübner GmbH, Giessen as a Sales Engineer. Johannes Hübner is a manufacturer of sensor systems for speed and positioning. The position includes key account customers in Germany and responsibility for Scandinavia and North America. Promoted to Sales Manager of Johannes Hübner in 2008. In 2009 was appointed as an Authorized Officer and became a Member of the Board in 2012. Was moved into the position of General Manager in 2013, which includes responsibility for Sales, Marketing, R&D and production.
In 2010 established the first subsidiary, Johannes Huebner Corporation in Atlanta, Ga and was appointed as the CEO, a position he is still holds.
---
Business Podium

Speed and Position Encoder Solutions for Mining Industry
Johannes Hübner presents its business division sensoric and its product. New developments in the field of absolute and incremental encoders, hollow shaft encoders, magnetic encoders and rotary limit switch for the mining industry. It discusses the modernization and construction concepts, such as on mining equipment. Examples of applications for bucket-wheel excavator, bucket chain excavator, shovel, walking dragline, stacker, conveyor systems and belt stations from the open-pit mining. But also applications for hoist drums, winder with integrated motor and deflection sheaves from the underground mining will be discussed.
---