Senior Consultant – Hydrogeologist, SRK Consulting (UK) Ltd
---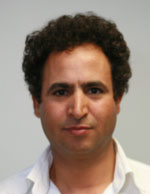 He participated in high level Feasibility Studies for various mining projects around the world. He worked on gold, copper, diamond, coal, zinc, uranium, and iron ore projects in various geological settings and climate conditions from Asia to Africa, Europe and America. His experience includes design and supervision of site investigations, numerical modelling and optimisation of mine dewatering systems, mine water supply and management, water pollution control and remediation, geotechnical and groundwater modelling for mine slope analysis, and due diligence studies. He also carried out studies for projects in various other fields such as landfill and contaminated land, environmental impact assessment for activities such as industrial developments, roads and pipeline installation, agriculture, and waste disposal.
---
SRK Master Class: Talk 2 - Data Collection for Mine Design

Integrating hydrogeological borehole testing with other geo-disciplines
Design and implementation of hydrogeological site investigations and integration with other geo-disciplines. Groundwater flow and pore pressure modelling. Input to mine design.
---
SRK Master Class: Talk 5 - Hydrogeology

• Groundwater flow and pore pressure concepts
• Numerical modelling
• Mine dewatering and/or depressurisation and monitoring
• Input to mine design
---